Phone Systems
We offer professional communication solutions for small businesses.
We install Panasonic business telephone systems that are built for
our clients' ease of use and up-to-date functionality. Our phone
systems can easily be customized for the client's specific needs and
purposes, whether it be single or multi-site small to medium business
application. Panasonic offers efficient and top-of-the-line communications
and we keep your budget in mind.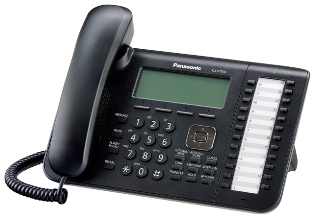 The Panasonic KX-TDE Series is the ideal PBX phone system for business applications. It is an advanced IP-based system built for IP networking environments and supports a wide range of basic and advanced features such as:


Extension calling and transfers

Caller ID / Callback

Live Call Screening

Paging Groups

Incoming call distribution

Automated Attendant service

Enhanced message notification

Voicemail to Email Integration

Covering Extension

Fax detection

SIP Telephony

Mobility via DECT wireless


Wireless mobility solutions

DID (Direct-Inward-Dialing) call routing

Integration with advanced voice processing systems such as the Panasonic TVA voicemail platform

Support for a wide range of IP telephones, Softphones, SIP phones and standard digital /analog phones



One of the key reasons that we exclusively provide Panasonic phone systems is the quality and reliability of the equipment and the simplicity of its use

.

Panasonic is the number one provider in the world for PBX systems consisting of one hundred extensions or less, according to a report from MZA Ltd. ("The World PBX/IP-PBX Market Competitive Environment 2011", July 2011.) Panasonic also boasts global leadership for DECT wireless.

Connectivity Works is an authorized reseller and has multiple technicians that are certified by Panasonic Systems North America for business telephone system installation and maintenance. We are committed to providing our clients with excellent service. We will guide you though the planning process and get your system installed in a timely manner with minimum downtime. Our clients' satisfaction is important to us, which is why we strive to provide quality and reliable ongoing service and support for your system.